Our team is proud to announce the 3.0.0 release of OSLC Connect for Windchill.
We are excited as this reflects the latest evolutions of our customer needs and delivers on the vision of the digital thread.
With the latest release, we reveal an improved deployment architecture, new user scenarios across the OSLC domains, and compatibility with the latest IBM® Engineering Lifecycle Management (ELM) release.
What is OSLC Connect for Windchill?
OSLC Connect for Windchill enables users of PTC's Product Lifecycle Management (PLM) Windchill™ ecosystem to share information with IBM's Application Lifecycle Management (ALM) ecosystem.
Using OSLC standards from the OASIS Open Standards Network, OSLC Connect for Windchill is implemented as a Windchill extension to the PLM and the ALM systems.
The Windchill extension is a collection of Java Jars that implement both an "OSLC Provider" for Windchill PLM content to the IBM ALM system, and an "OSLC Consumer" of ALM content from the IBM ALM system to the Windchill PLM system.
Expand your PLM Use Cases
Our customers have been pushing to build the digital thread through the OSLC standard, and we have been working with them.
In 2019, we introduced the ability to connect Windchill parts to requirements to complement our existing support for connecting the changing flow from Windchill Changes to Rational Team Concert Workitems.
Integrate PTC Windchill with Quality Management
Pervasive across the ALM-PLM bridge is the need for Quality and Quality Systems. These are capabilities that our customers are demanding and our latest release is delivering.
With the new support of consuming the OSLC Quality Management interface, users can now support use cases including:
Link Windchill Change Requests to the Test Plans and Test Cases that will capture the validation criteria and performance results.
Link Windchill Change Requests to Execution Results that show the performance driving the requests.
Link Windchill Parts to Test Cases that will validate performance.

Integrate PTC Windchill with Quality Management for Test Plan To Change Notice in PTC Windchill.
Support for Change Notices
While support for Change Requests has been available for years, we know that these are not the only changes that are managed in your Windchill Enterprise.
We recognize the need for flexibility, so we introduced the support for Change Notices into the OSLC Connect platform to support your workflows of choice.
All the options of Change Requests are available and are simple to integrate into your process to allow Change Notices to connect to Quality Manager (QM) and Change Artifacts (IBM Engineering Workflow Management/Rational Team Concert or Atlassian Jira).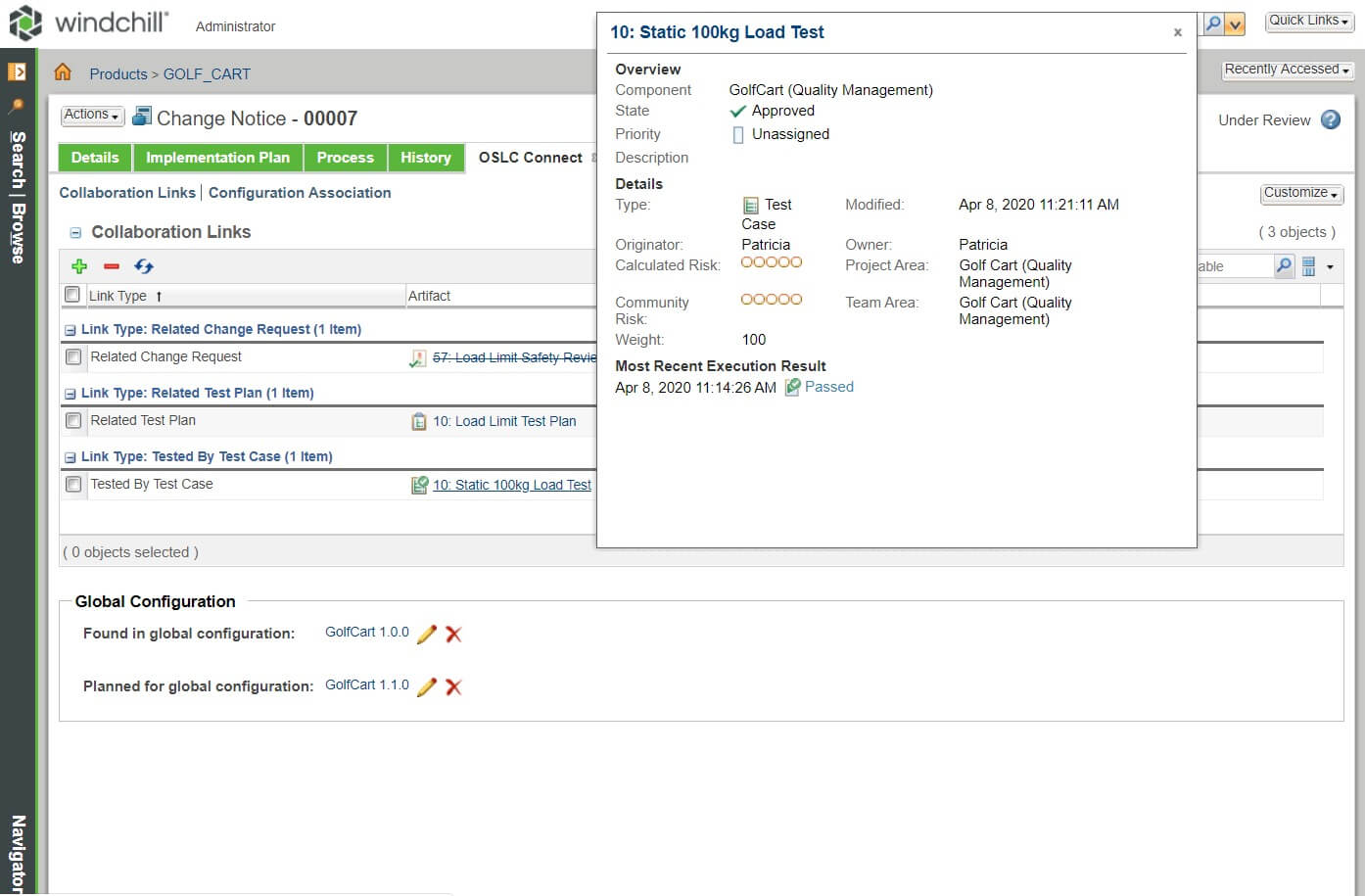 OSLC Configurations in Windchill
As the OSLC enterprise continues to grow, the role of Configurations takes a critical step forward.
We continue to support IBM Global Configuration in our Windchill Part support. In this configuration-aware integration, part instances in Windchill can select an Application Lifecycle Management (ALM) Configuration to focus their link targets.
In the 3.0.0 release, we bring configurations to Windchill Change Notices and Requests. This allows users to work with Configuration Aware projects in IBM ELM and align the specific versions of QM artifacts that are referenced from the Changes.
Delivering OSLC Architecture mandated by your Enterprise
We know that our customers are working in the most rigorous environments.
No matter what domain you are operating in, we observe critical requirements on the topology, maintainability, and data security of your deployments.
In our latest release, we have fully integrated into the Windchill application to complete the integration of OSLC with Windchill. We have removed the additional server application to support OSLC.
OSLC Connect for Windchill is now native in the application providing one location to manage your Windchill data (now including OSLC). This has added benefits of simplifying the topology, reducing the computational footprint, and simplifying the data authentication. Users will gain ease in support, quality of service, and performance moving to the 3.0.0 platform.
Supporting the IBM Enterprise
The latest OSLC Connect for Windchill release also brings official support for the latest IBM ELM 7.0.0 release.
In addition to the product performance improvements you will see from the IBM release, you will now have access to the following features in the IBM platform:
Include Windchill Parts in your ReportBuilder reports (in addition to the existing Change Request and Change Notice support in 6.0.5+).
Link from IBM Engineering Test Management Test Cases to Windchill Parts.
OSLC Connect for Windchill delivers on our goal of building products for the Enterprise so you can build products for the world.