So, we've been asking ourselves, how do users expect IBM Engineering Requirements Management DOORS and Atlassian Jira to work together? What do they do when they want to link multiple artifacts from DOORS to Jira? Today we're excited to announce new enhancements on OSLC Connect for Jira to help engineers create requirements links in their natural flow.
A new way to manage IBM DOORS requirements
In the previous versions of OSLC Connect for Jira, it was possible for users to link a requirement from IBM Engineering Requirements Management DOORS Family (also known as DOORS Classic) and DOORS Next (formerly DNG) to a Jira issue within a few clicks. We want to make it even easier. When it comes to engineering tools, the usability of the end product is the main goal.
In this update, we've made it easier to link IBM DOORS requirements to a Jira issue and stay in your normal flow.
Drag and drop IBM DOORS requirements in Jira
From IBM Doors to Jira, it is now possible for users to drag and drop DOORS requirements into Jira. It is as simple as the example below.
Just select, drag and drop, it is that simple. Your requirement is now linked to a Jira issue. And better yet, the link created is a natural OSLC bi-directional link!
Copy-paste DOORS requirements in Jira
Sometimes, more than one requirement needs to be linked to a single Jira issue and when you want to create relationships with multiple requirements, single drag and drop can be tedious.
We are making it easier for engineers to select multiple requirements from their requirements management tool and link them to a Jira issue. With OSLC Connect for Jira, when you manage multiple requirements, you can now select multiple objects, and paste their references into Jira all at once.
Once your requirements references are dropped into the Jira drop zone, the solution will validate them. When green boxes appear, that's when you know your dragged artifact is compatible with Jira. You can add and remove as needed until you are ready to finalize the links.
Apply drag & drop on other OSLC links
With this release you also get access to drop or paste other OSLC links. This includes DOORS Next and Engineering Workflow Management (EWM - formerly IBM Rational Team Concert).
If you are using Global Configuration, there are features in the drag and drop to warn you of inconsistent and incompatible configurations. It is both the speed and quality we know you are demanding!
Cross-project planning in IBM EWM and Jira
We know we have teams that are using both IBM EWM for their large-scale planning and using Jira for their contributing teams. How can these teams work better together? Our answer is to leverage OSLC.
With our latest release of OSLC Connect for Jira, you can now use Cross-Project Plans in IBM EWM and have access to resources in both Jira and IBM. Naturally integrate your teams and speed development with open visibility using OSLC Connect for Jira.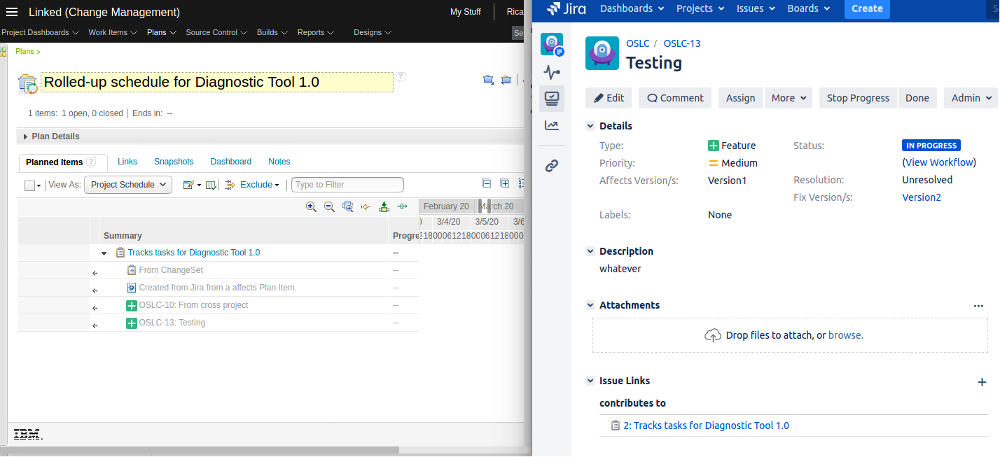 Select your plan item, drag, and drop it inside Jira.
Read the full release notes here.
Connect Jira to the IBM Engineering Enterprise
At SodiusWillert, we believe continuous engineering with Open Services for Lifecycle Collaboration (OSLC) is the future of making engineers more effective.
With OSLC Connect for Jira, connect Jira to your IBM Engineering Lifecycle Management tools and enable bi-directional links, no copying of data, real-time authenticated access to artifacts, and much more. With this solution, we make sure you can focus on making great products.
Not an OSLC Connect for Jira user yet?
You can try it free directly from the Atlassian Marketplace. Sign up today and start using OSLC Connect for Jira.
Already an OSLC Connect for Jira user? Download the OSLC Connect for Jira 2.7.0 version from the Atlassian Marketplace.