When the OSLC Connect for Jira product was first introduced last year, our objective was to open the Atlassian Jira solution to the IBM Enterprise. We wanted to help organizations enhance the value of their existing tools and processes.
With OSLC Connect for Jira, organizations can directly connect Jira installations to their IBM Engineering Lifecycle Management (ELM) assets to Jira tickets. No copies, no clones, just direct links from IBM to Jira. Fortunately, the feedback we have received from our users has been fantastic.
For organizations that are in regulated industries, OSLC Connect for Jira allows them to successfully create tight, traceable, and reportable links between critical tools in the organization. They have been immediately able to see value in how requirements in DOORS Next Generation drive their Stories and Implementations in Jira, and issues identified in testing in Rational Quality Manager (now Engineering Test Manager) can directly drive issue fixes.
Critical to the organizations is how OSLC Connect for Jira has enabled the ability to report across the entire enterprise of IBM and Atlassian with IBM ReportBuilder.
Today we are excited to announce that SodiusWillert's latest (and first of the year!) OSLC Connect for Jira 2.2.0 release is finally out! SodiusWillert is starting the year strong with the addition of a new connector, reinforcing the power of connected data.
Connecting Jira to IBM DOORS Classic
From the start of our vision for OSLC Connect for Jira, we knew that DOORS Classic users and Atlassian Jira users faced all the same challenges of connecting Jira tickets to Requirements in DOORS. However, with a different platform. a different user experience, and a different client, we wanted to be able to provide a tool that would meet all these requirements to optimize the user's experience for our customers.
This new release achieves our goal of DOORS Classic support that DOORS and Jira users can both appreciate. We are glad to give users options to eliminate copies of information, synchronization challenges, and permission issues and replace them with OSLC Connect for Jira.
Keep on reading to learn more about the latest addition to the OSLC Connect for Jira product: DOORS Classic!
Linking from DOORS Classic to Jira
With the new Jira - DOORS Classic connector, you can quickly create tickets or links from DOORS Classic to existing tickets in Jira without opening a new user interface.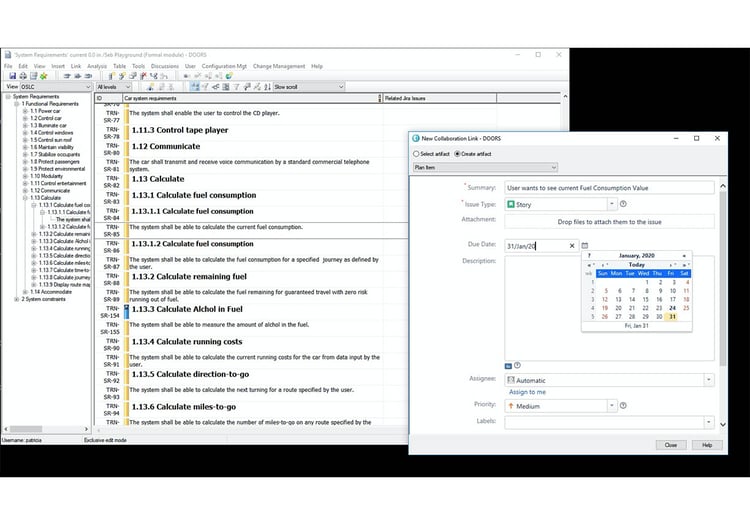 Image of an artifact creation from DOORS Classic.
Direct access to current Jira Data in DOORS Classic.
Have you ever waited for updates on when an implementation task will be completed? Or simply wanted to know how it was progressing? Well, you no longer have to wait. With this new connector, access live data from DOORS Classic directly inside Jira.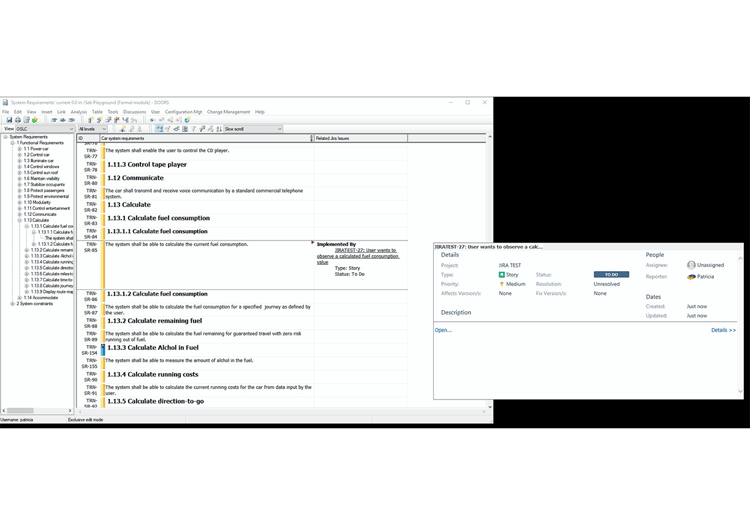 Image of DOORS Classic with DXL Column and Jira Pop-Up.
Access DOORS Classic Data from Jira.
If you are a Jira user and want to access DOORS requirements easily, it is now possible. By linking Jira to DOORS Classic, you get immediate access to DOORS requirements without searching for data in DOORS clients. You can navigate directly to the DOORS asset with just a click!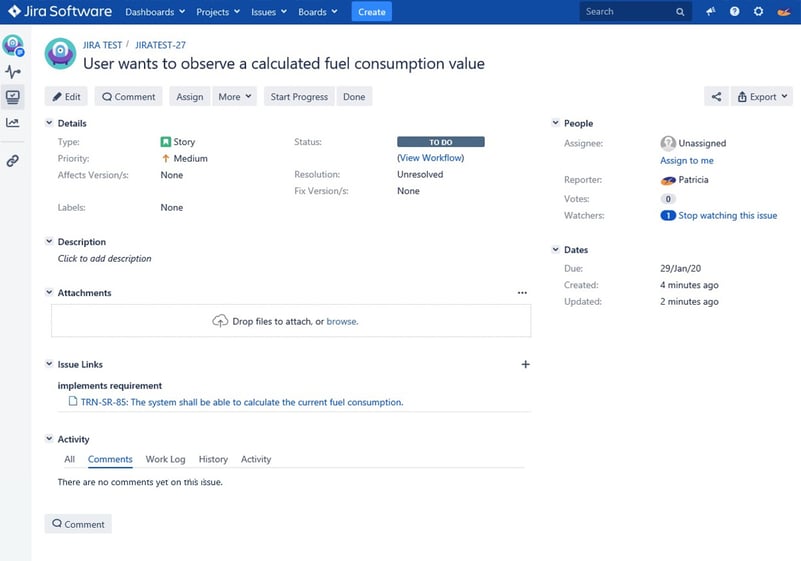 Access implements requirements from DOORS directly inside Jira. Navigate to DOORS with a click.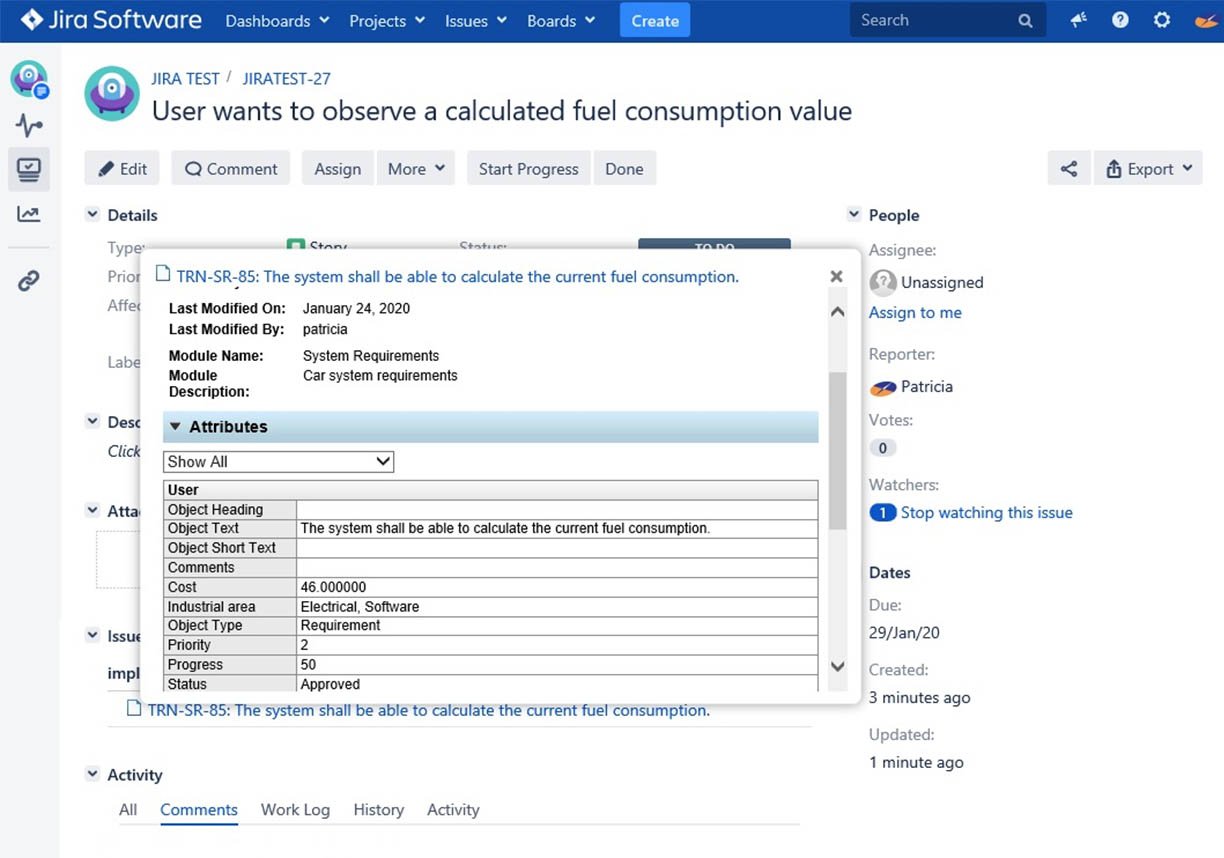 View details of the requirements from DOORS inside Jira via a rich hover of DOORS data.
Linking from Jira to DOORS.
While working in Jira, you can add a reference to a DOORS object in a module easily.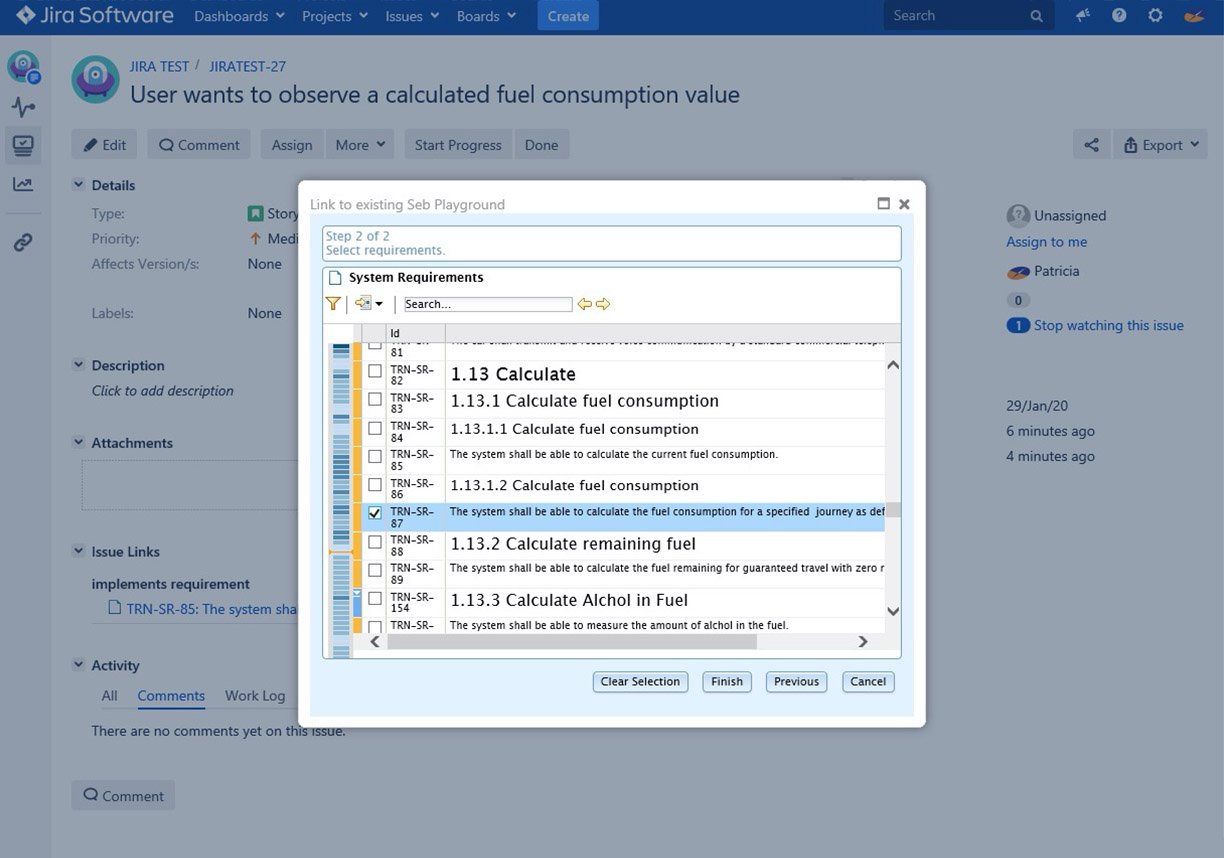 Image of the creation of a link to an existing DOORS object from Jira.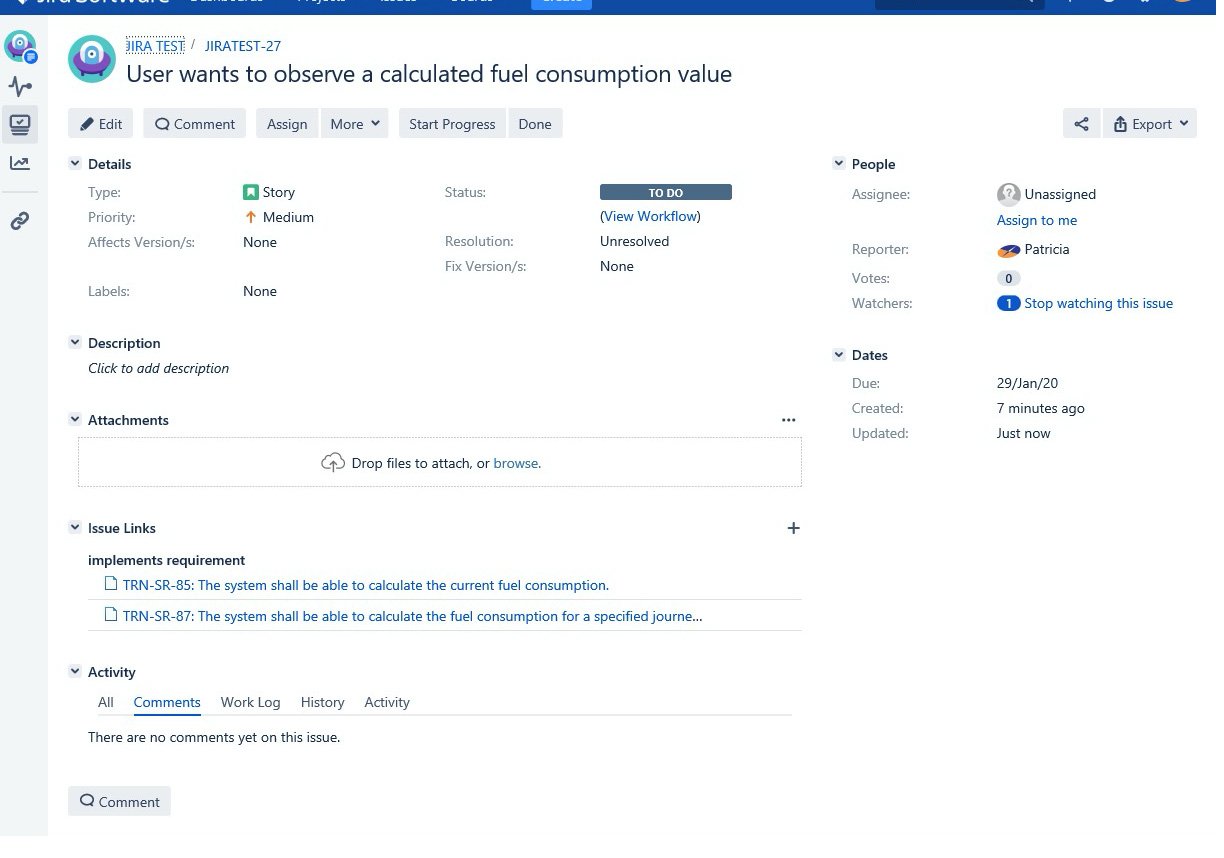 Access the live object from DOORS inside Jira and navigate to DOORS with the push of a button.
Enhancing the value of Engineers' Tools
With this new addition to the approved support for DOORS Classic, OSLC Connect for Jira now supports integration with DOORS Classic, DOORS Next Generation, IBM Rational Quality Manager, IBM Global Configuration, IBM Rational Team Concert, and PTC Windchill.
At SodiusWillert, we believe OSLC is the way of the future for integration and we continue to push our OSLC Connect family to meet this vision. With each new release of the OSLC Connect for Jira, SodiusWillert pushes to add more capability to enable tools to work for your team.
SodiusWillert is proud of making integration solutions for engineers. Our goal is that it is natural and enhances the value of their existing tools and processes. Our goal with this product has been to present OSLC to Jira users in the way Jira users expect.
We believe, and our customers, believe we have hit this target. We recognize that this has always been the vision and desire of linked data, but realizing the vision in tooling is what is exciting. An integration, a great integration, creates more value than the tools individually and this is what our customers have seen. OSLC provides the linked data concepts, but the user experience and user success are what really distinguish this product as an OSLC Connect product.
Improving traceability with OSLC Connect for Jira
Traceability is one of the many struggles every Software and Systems engineers face on a day-to-day basis. Read our "What is Traceability in Software Engineering?" post to learn more.
At SodiusWillert, we understand the struggle and have developed a solution to connect the engineering enterprise together. We want to empower engineers to help them make faster and better decisions during the product development lifecycle.
OSLC Connect for Jira allows Engineers to connect their preferred issue tool to the engineering enterprise. Whether you want to connect Jira with IBM Engineering Lifecycle Management products or other OSLC-compliant products, you can achieve visibility and traceability in Product Definition, Requirement Development, Modeling, Testing, and Change Management from concept to implementation.
Not an OSLC Connect for Jira user yet?
You can try it free directly from the Atlassian Marketplace. Sign up today and start using OSLC Connect for Jira.
Already an OSLC Connect for Jira user? Download the OSLC Connect for Jira 2.7.0 version from the Atlassian Marketplace.