With each new release, our team strives to provide meaningful and valuable enhancements to our customers. As the Product Owner, I'm excited to share the following highlights of this OSLC Connect for Jira 2.8.0 release.
Search and find any artifacts more easily
Accessing artifacts in Jira should always be a simple task. As a Jira user, you are used to using the Issue Key as the quickest way to find a Jira Issue in an Atlassian Dialog.
Our goal with this release is to blend the ability to quickly find any Jira artifact while operating in the IBM DOORS Next, IBM EWM, IBM ETM, or Polarion ALM OSLC dialogs.
In this 2.8.0 release, your Issue Key will be your gateway to find the Jira Issue to link.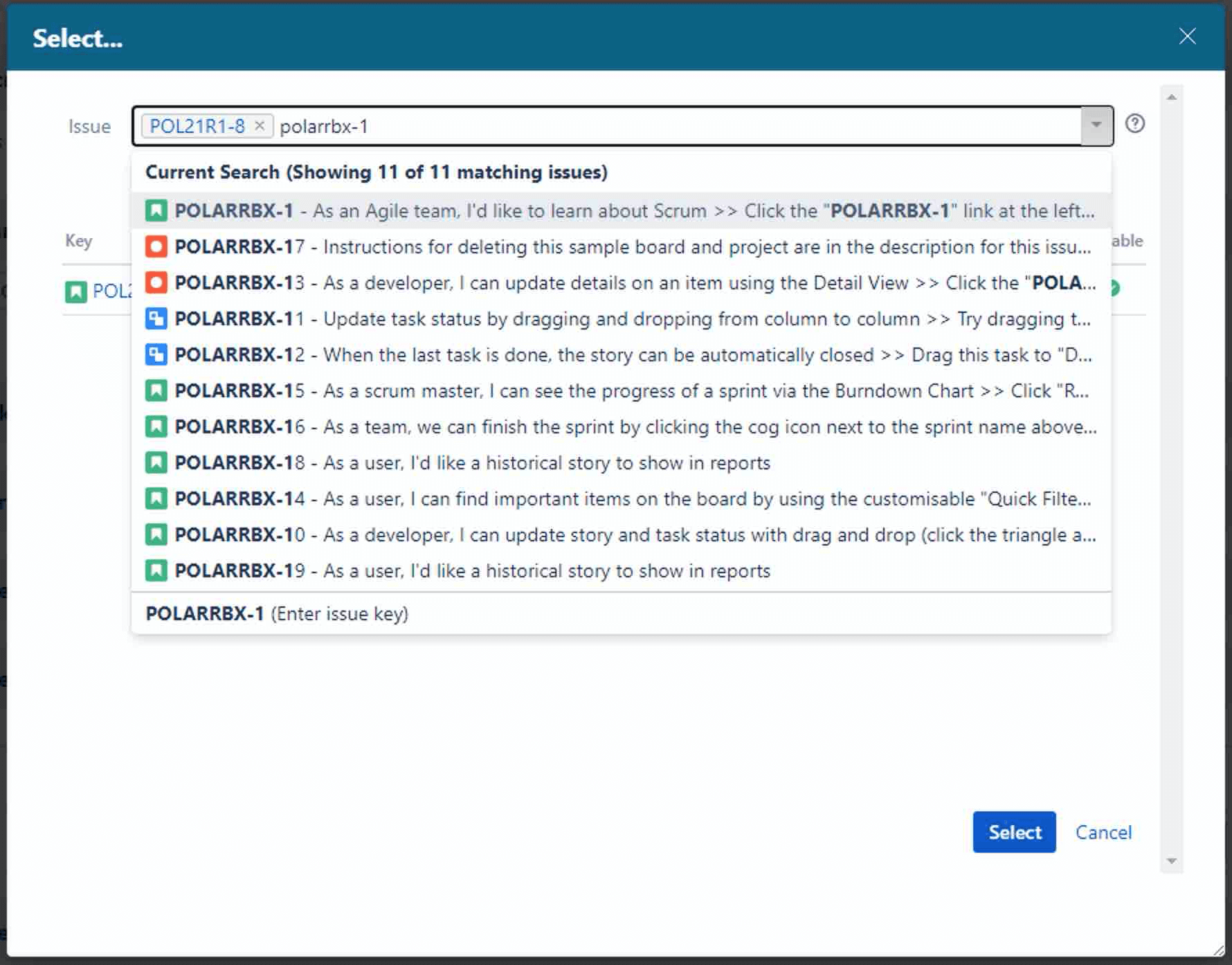 We have introduced common Atlassian behaviors to the Search Dialog, and you can see critical artifact details to assure you have the right items.

If the selected artifact is outside your project associations, OSLC Connect for Jira will warn you. (see below)
For Global Configurations users, OSLC Connect for Jira will hint at the artifact's compatibility in your current configuration.

If you liked our old filter dialogs, do not worry, they are still there. Just use the "search for an issue using filters" option.
Enacting your Process with OSLC
Limit transitions to approved statuses
In our 2.7.0 release, we enabled you to visualize the status of your links.


These decorators are valuable to influence the decisions of users, but we knew we could go further.
Prevent a transition to a new state with Validator
Change Management tools are crucial to enacting your processes. Jira Issues provide ownership, states, workflow, and attributes to manage the flow of activities.
However, we know with OSLC that critical data is linked to Jira Issues from the enterprise. The OSLC Connect for Jira 2.8.0 release demonstrates the value of linking in OSLC beyond passive behaviors. OSLC can be actionable!
In this release, we introduce a Jira Validator that uses OSLC links. This Validator enables you to prevent a transition to a new state unless specific properties are met. For example, you can now enforce that users cannot begin implementation work on a requirement until all the requirements are approved.
To use this Validator:
Edit your Jira workflow transition to include our Validator.
Parameterize the behavior you want to enact in the validator dialog.
Publish your workflow.

The OSLC Connect for Jira 2.8.0 release allows you to impose behaviors that enable the enforcement of your process to support their actions. Below is now the behavior of Jira when we try to transition without approved Requirements.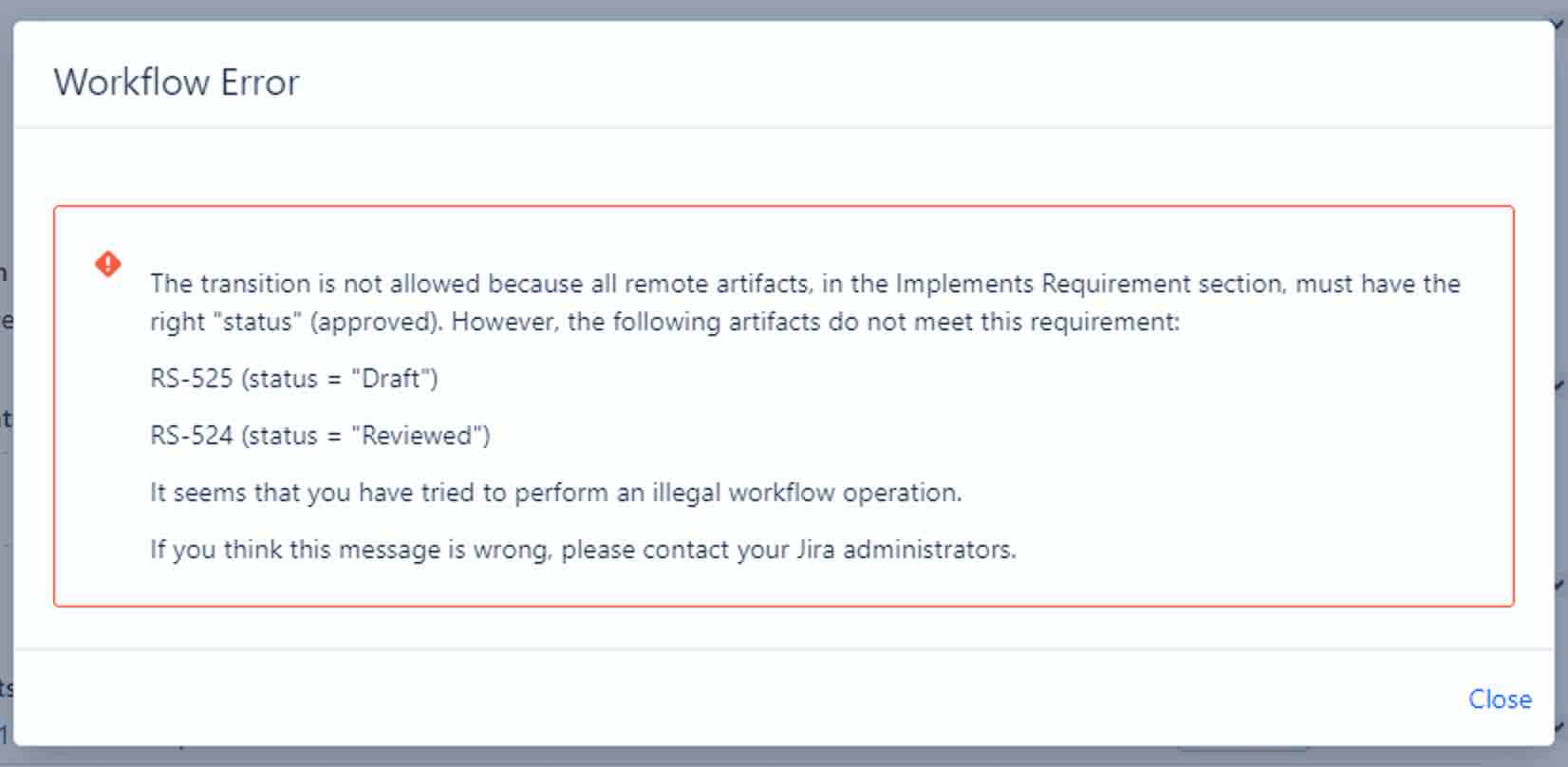 OSLC links are now active participants in your Jira workflows. We look forward to hearing how your teams are leveraging this in your workflows.
Watch how to use Jira Validators in the video below.
Improvement on Security
Security is an imperative of OSLC. We always maintain controlled access to resources and require the authentication and authorization to see remote resources.
More options to manage the Configuration and access to OSLC resource
Earlier this year, a change in browser defaults made the integration of OSLC repositories in different domains (for example, myjira.sodius.com to myelm.sodiuswillert.com) more challenging. The change introduced a new behavior for Cookies and impacted most session Cookies. For OSLC Applications, this had the side effect of making embedded dialogs non-operational.
With this release, OSLC Connect for Jira allows Jira admins to enable OSLC interaction by changing the Cookie settings when your Jira application and target OSLC repositories in different domains.
Better control on where your OSLC content is embedded
We know teams want to control where their OSLC content is embedded and from where that information is embedded.
OSLC Connect for Jira now allows Jira admins to leverage their Friend definitions to limit the embedded content to the known OSLC endpoints.
These are implemented by standard Content Security Policy (CSP) headers in the web traffic, and it provides your Jira admin with a simple method to enforce more robust security.
Check out the details in our help documents about configuring Security.
Not an OSLC Connect for Jira user yet?
You can try it free directly from the Atlassian Marketplace. Sign up today and start using OSLC Connect for Jira.
Already an OSLC Connect for Jira user? Download the OSLC Connect for Jira 2.8.0 release on the Atlassian Marketplace.