If you use OSLC Connect for Jira, then you know that sometimes Friends move. If you're new here, you first need to know that OSLC Connect for Jira is built on the OSLC standard that leverages web links (URLs). This facilitates access to engineering artifacts (requirements, test cases, test results, etc) across a set of web-based engineering tools (in our case IBM Engineering Lifecycle Management and Siemens Polarion ALM).
When using OSLC Connect for Jira, Friends (remote repository definitions) are used to create relationships between Jira and IBM ELM or Polarion ALM. These Friends use a base URL to define the remote application location (for example https://my.ibm.repository/). Linking with URLs ensures a unique and (ideally) persistent identifier. However, we all know the challenges when a website moves (for example from https://my.ibm.repository/ to https://my.ibm.cloud.repository/ ) and breaks our links. This is also true of OSLC systems. If a Friend (repository connection) moved, thousands (and sometimes millions) of links have been broken. This has been an issue requiring custom services and database scripts.
We all think this won't happen to our systems. However, we have found over the years that there are many valid reasons a URL can change:
A server moves from the local space to a Cloud platform.
A backup is created for a development or test environment.
An update in DNS.
A corporate rebranding.
A fix to add a fully qualified domain name.
All of these would be scenarios, and more, motivate a change in the base URL of a Server, and break all of your links. But now, you can be prepared!
More time saving, less time worrying
As part of the 3.1.2 release, we are introducing the Friend Relocation feature. Friend Relocation will update your remote repository references as well as all of your Issue Links, Project Associations, and Global Configuration Mappings to the new location of your Friend. This feature means no need for services or attempting unsupported database changes.
The Friend Relocation feature will allow you to redirect a Friend and perform basic checks to ensure the new destination is up and running. It will also provide you with a checklist of the issues and links to be updated by the project.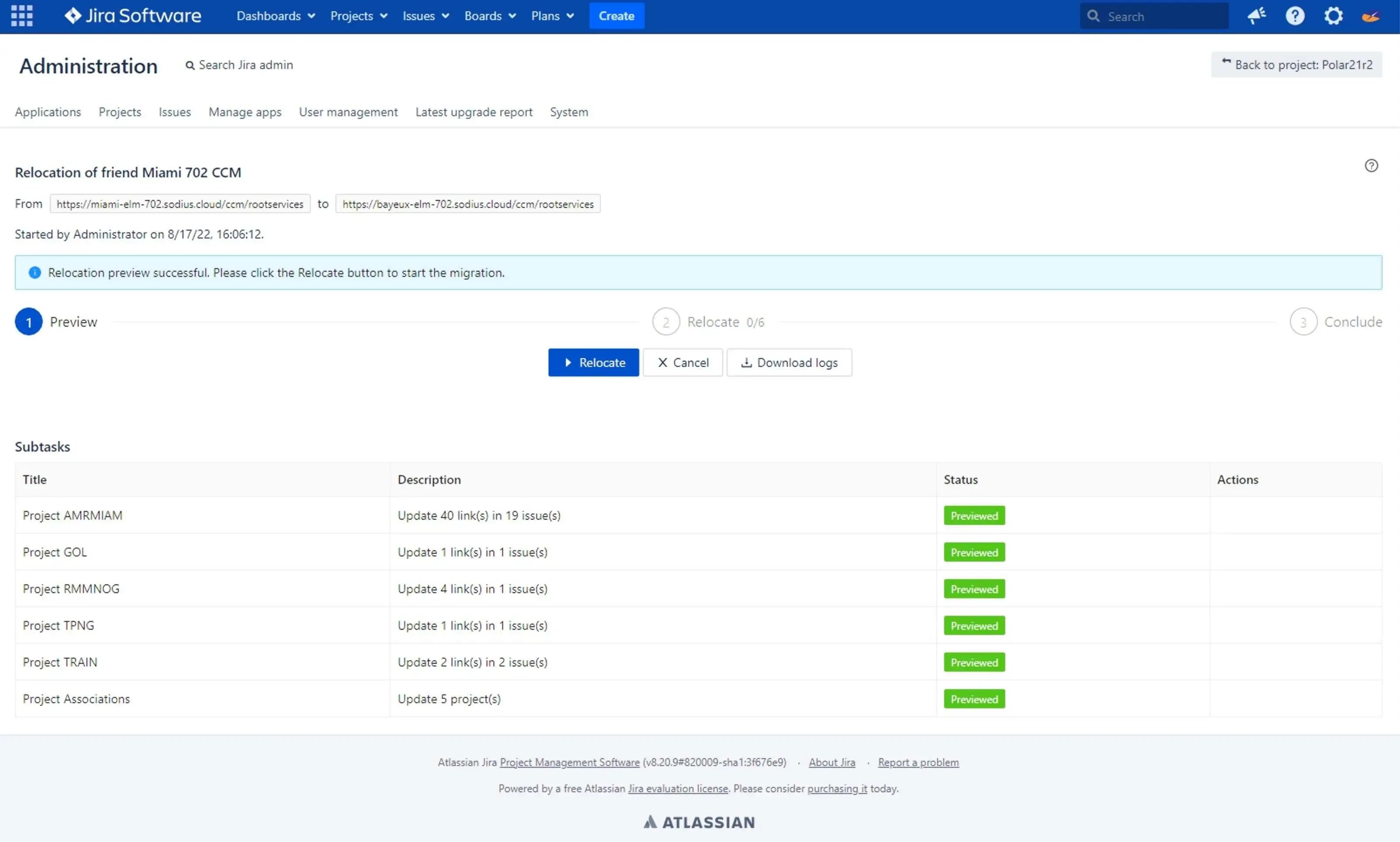 Once you have validated all the items in the checklist, you can activate the Friend Relocation feature. These links will be updated in your repository. A status monitor will show progress, and logs are available to review if there are any issues with execution.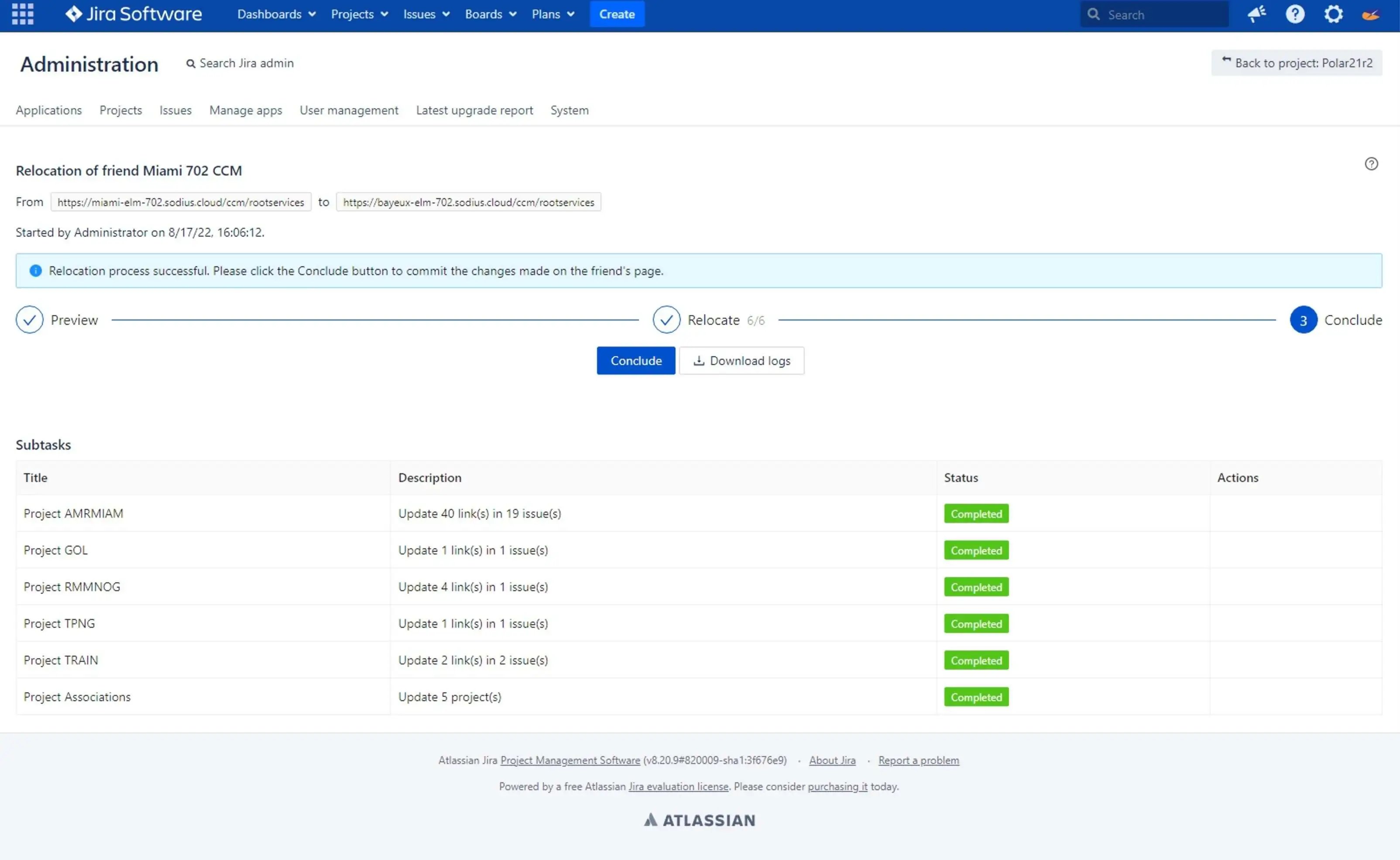 It will now be okay if your Friends move. You are now covered when the network admin moves your IBM ELM system to a new domain, replicates your entire Jira system to the test environment, or updates the remote server to a fully qualified domain name. OSLC Connect for Jira can now update your OSLC links simply and safely.
My support team made me promise to recommend you backup your Jira Database before relocation in case of a Jira server disruption. Always buy that moving insurance as a repository backup!
If you move your Jira server, ensure that the IBM and Siemens teams can support it in their repository.
Get started with OSLC Connect for Jira
If you already use OSLC Connect for Jira you can start saving time by updating to the 3.1.2 release on the Atlassian Marketplace. OSLC Connect for Jira users have access to powerful linking capabilities between Jira issues and IBM ELM or Siemens Polarion ALM, enhanced reporting features, and much more. Sign up for a free 30-day OSLC Connect for Jira trial to get started now.