Welcome to our Fall 2023 release of OSLC Connect for Jira. With this new major release, we are extending compatibility and adding some exciting features. Here is a preview of what to expect when you upgrade.
Simplified Project Association
Did you ever get confused about what project associations enabled what link types? Did you add all the associations to make sure you had no issues? We know most of our users did, and it wasted their time. In this release, project associations are now more straightforward as a Domain relationship in an OSLC Application.

Now, you can select multiple projects and enable all links to requirements in a single action.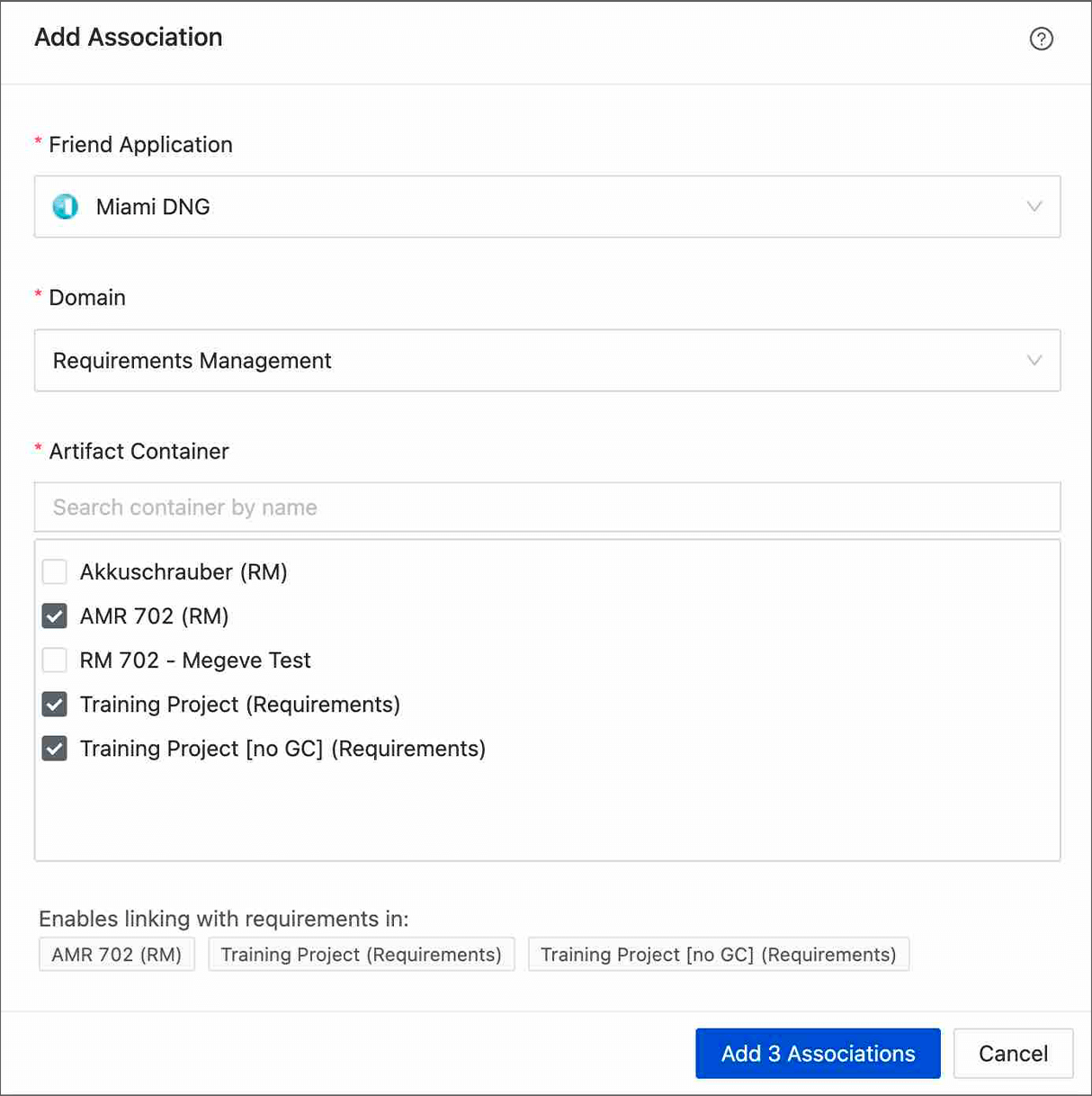 It is faster and easier. We expect project administrators to appreciate this new simplicity!
Introducing OSLC Scheme
The most significant feature of our release is the introduction of OSLC Schemes. OSLC is very permissive and allows any service exposed to be used. This provides flexibility, but it makes it difficult to enforce policies and processes. Schemes are our way of enabling Enterprises to manage the shape of connections between repositories.
Schemes can be used to solve many problems, such as:
We don't want users creating Requirements when linking from Jira,
We have test/development servers that production projects should not access,
We want to eliminate access to Test Suites from Jira,
We only want to link in a single direction to an OSLC repository (no backlinking!),
We have a shared Jira server, but it needs to connect to different RM tools for different projects,
We want to restrict the links types to Requirements to only "Implements",
And more…
OSLC Schemes build on top of OSLC and provide rich capabilities to manage your enterprise.
Jira administrators can create different OSLC schemes. Each scheme is a unique set of rules, and a project is assigned to a single scheme.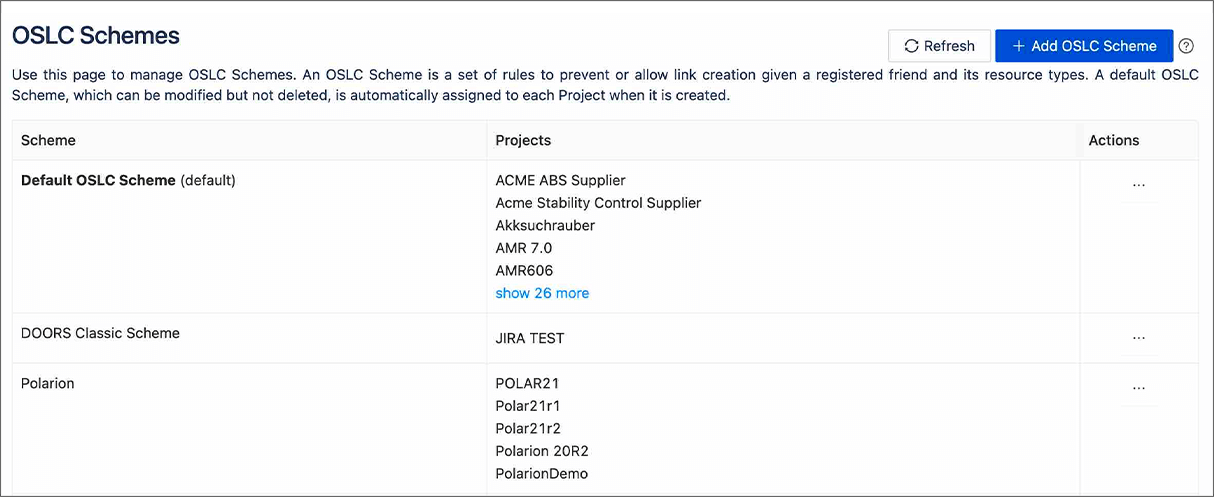 Specific Repositories can be disabled in a Scheme to prevent project admins from using OSLC servers you prefer for them not to use.

You can disable specific domains, resources, or link types for a repository.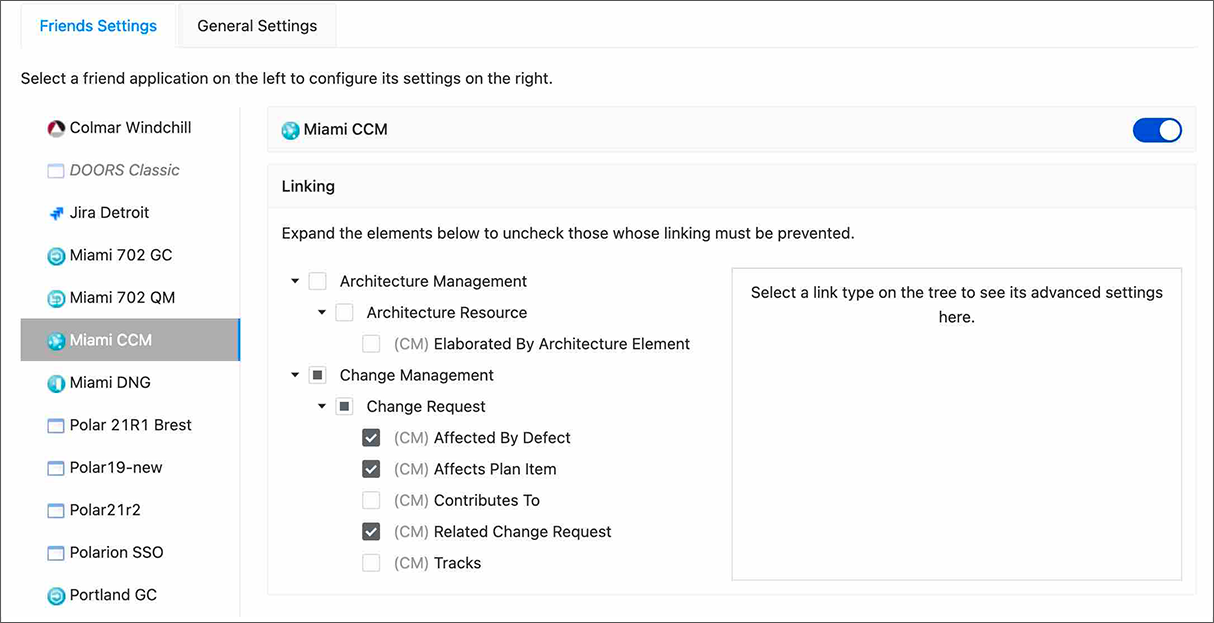 Or, if you have a read-only OSLC repository, like Teamwork Cloud Server for Cameo, you can disable the creation of backlinks.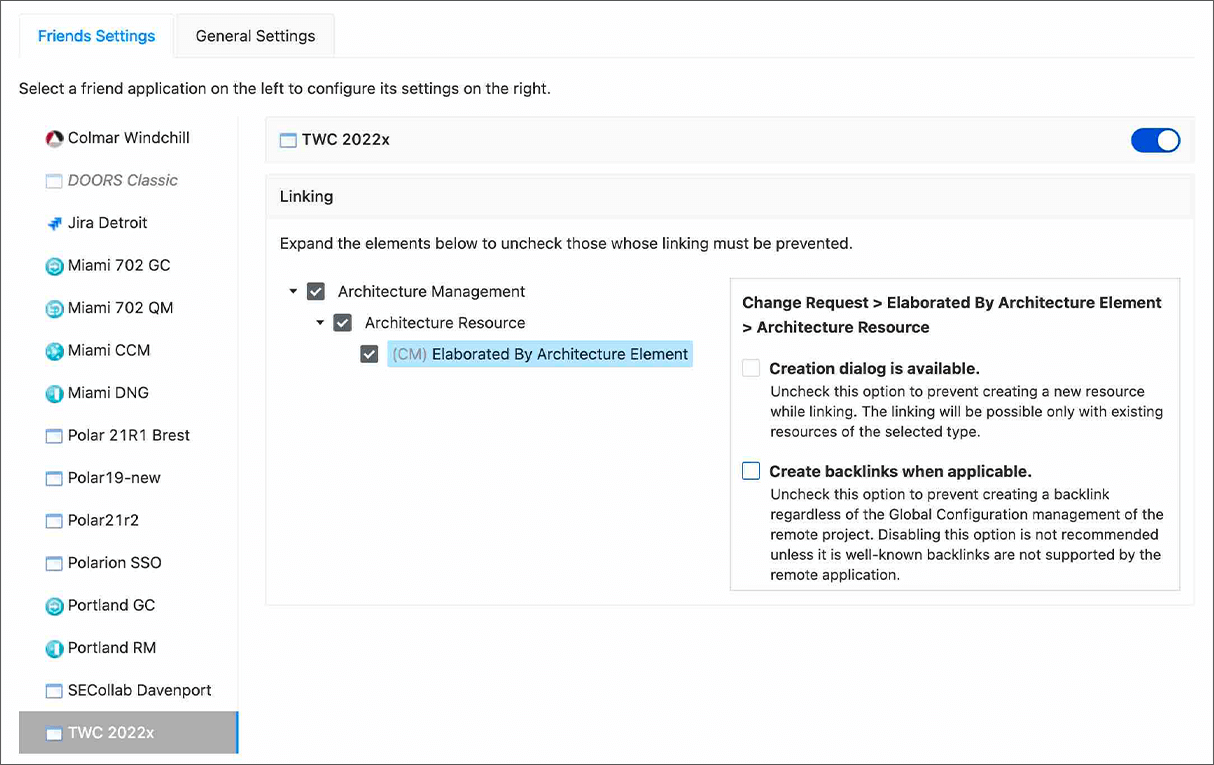 You can mix and match these features for whatever is correct for your enterprise. We will update our YouTube channel with demonstrations of leveraging these powerful new features.
Where is my link type
With Schemes and Link Types, we allow administrators to limit link relationships. How do users know why they are limited? We wanted to make the reason more accessible in our linking dialog. Just click on "Where is my link type?".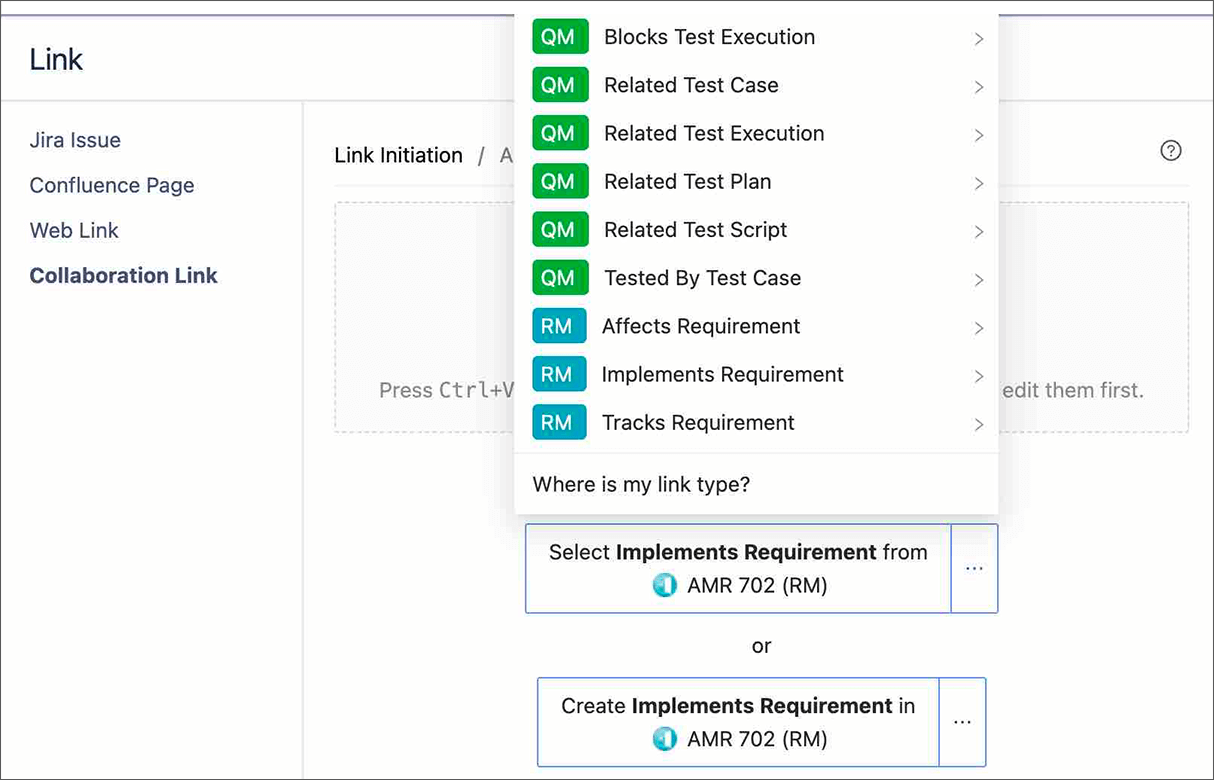 A popup will allow you to select a link type. It will review project associations, supported links, and the linking policy restrictions.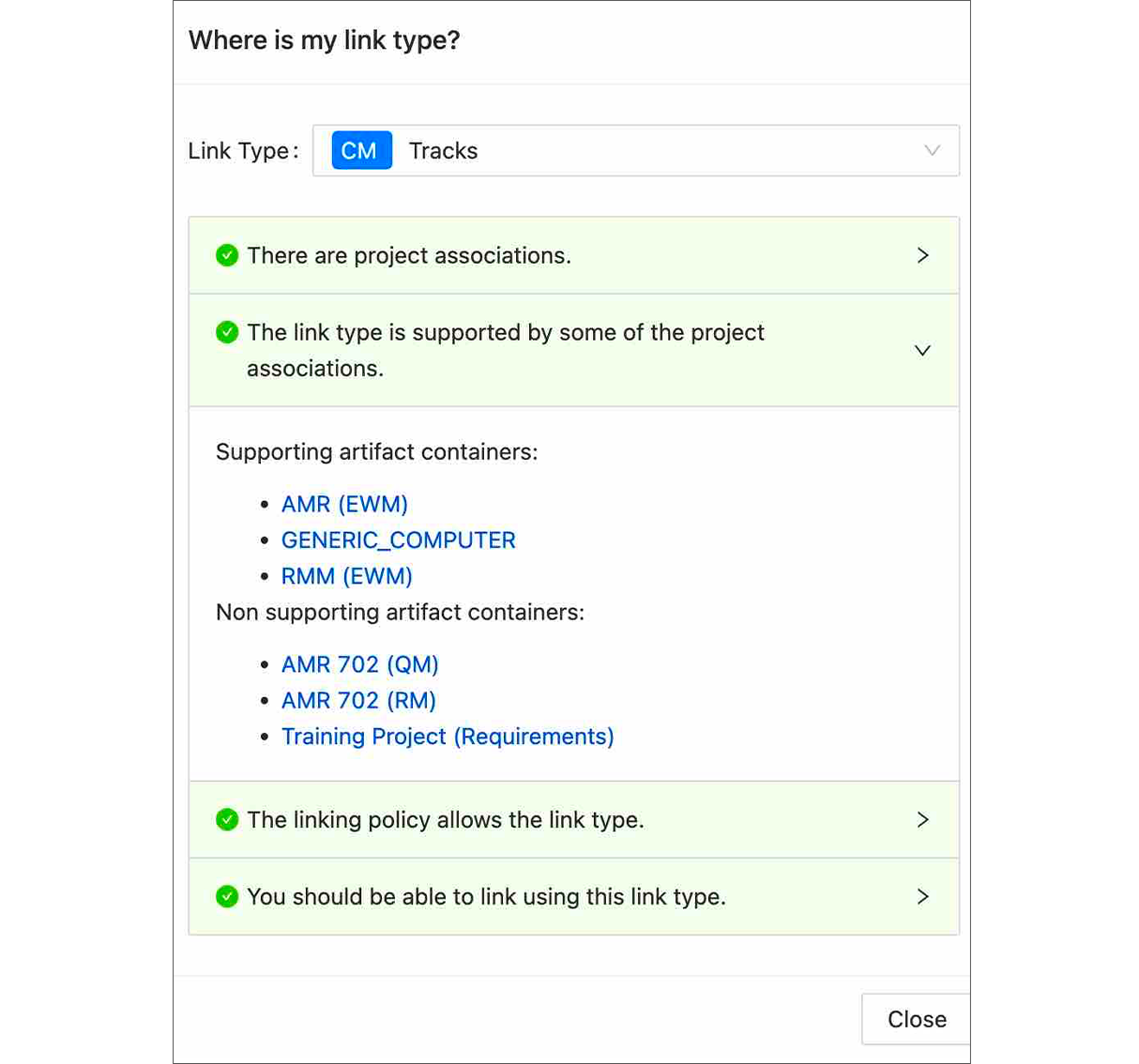 Users will better understand why a link may be available or restricted. Now without guesswork or asking the Jira Administrator.
Introducing Teamwork Cloud Support
We are always looking to broaden our tool support. Cameo Modeler is a popular tool in the engineering space for SysML Modeling.
In our latest release, you can now link to CATIA No Magic Teamwork Cloud.
You can add links to Teamwork Cloud Artifacts via the Architecture Element relationship.
And see live links (including Diagrams) from within Jira.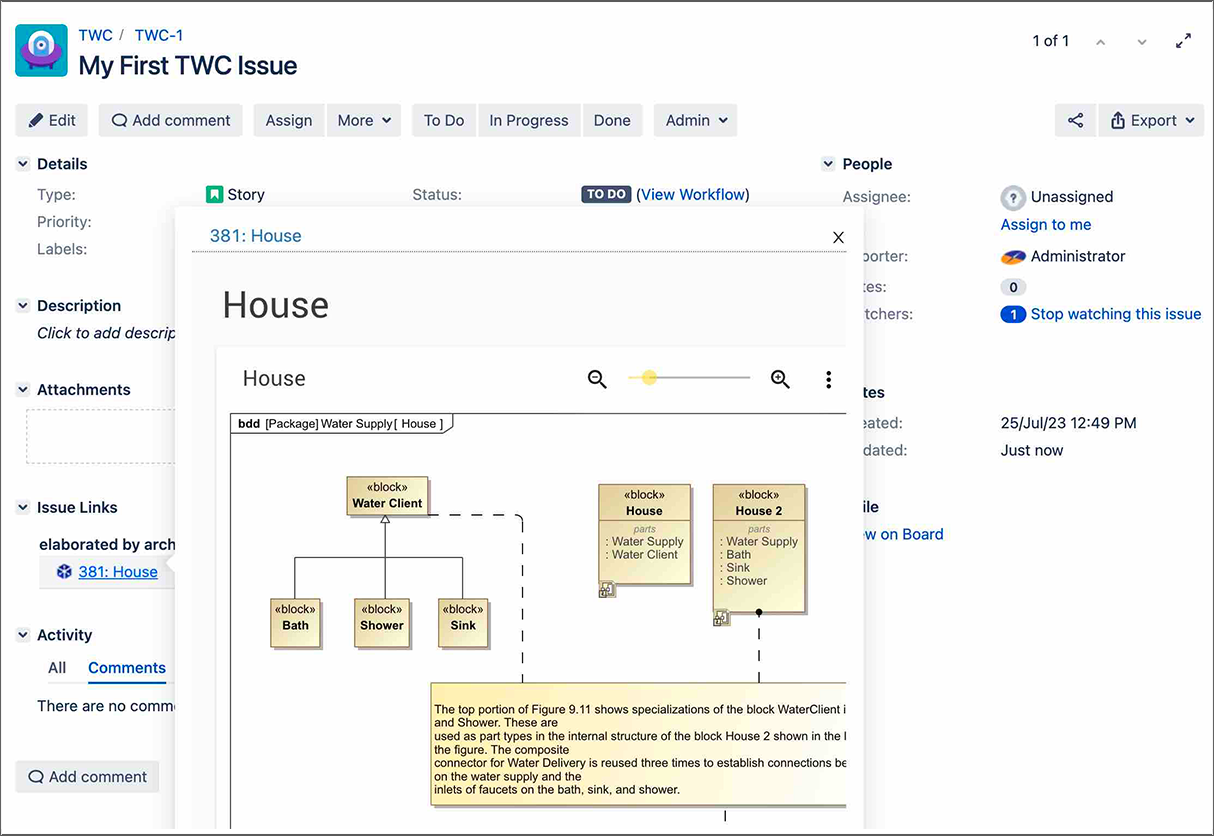 Get started using Teamwork Cloud and Jira now, download the app on the Atlassian Marketplace.
Improvements in TRS
Tracked resource sets (TRS) are how IBM ELM consumes Jira data for reporting and link discovery.

We observed some resource-locking contention for our large multi-node clustered Jira systems (over 1M Jira Issue), which occurred at extraordinary loads of resource changes and resulted in TRS feeds being unavailable.

We know rebuilds (and reindexes) of the TRS feeds are lengthy processes requiring repositories' coordination so, in this release, we added significant improvements to support our large Jira repositories and have enhanced the features where we recommend when the TRS feed should be rebuilt.