The latest version of the MagicDraw Publisher for Rhapsody 2.5.0 is here! We're excited to share these great new features and enhancements!

In this new 2.5.0 version of the Publisher for Rhapsody, we provide significantly faster performance, enhanced mapping capabilities to handle Rhapsody-specific functionality as well as improvements to the transformation of the Diagrams to support customer user capabilities.
The Fastest Systems Model Publish Yet!
Using a new embedded mode in Rhapsody, our MagicDraw Publisher product team has been able to drastically improve publication speed and guarantee the same quality of model exports.

When it used to take hours for models to export to the MagicDraw format, MagicDraw Publisher for Rhapsody users now can export Diagrams and Elements within minutes. Today, a model published with version 2.5.0 completes 5x faster while still providing detailed progress reports that ensure the correctness and completeness of the result.

We've worked to re-architect our reading process from IBM Rhapsody to use a dedicated embedded Rhapsody plugin. By doing this, we've been able to drastically improve data extraction steps. In addition, this minimizes the memory footprint of the Rhapsody APIs usage by accessing and releasing exported objects on the fly.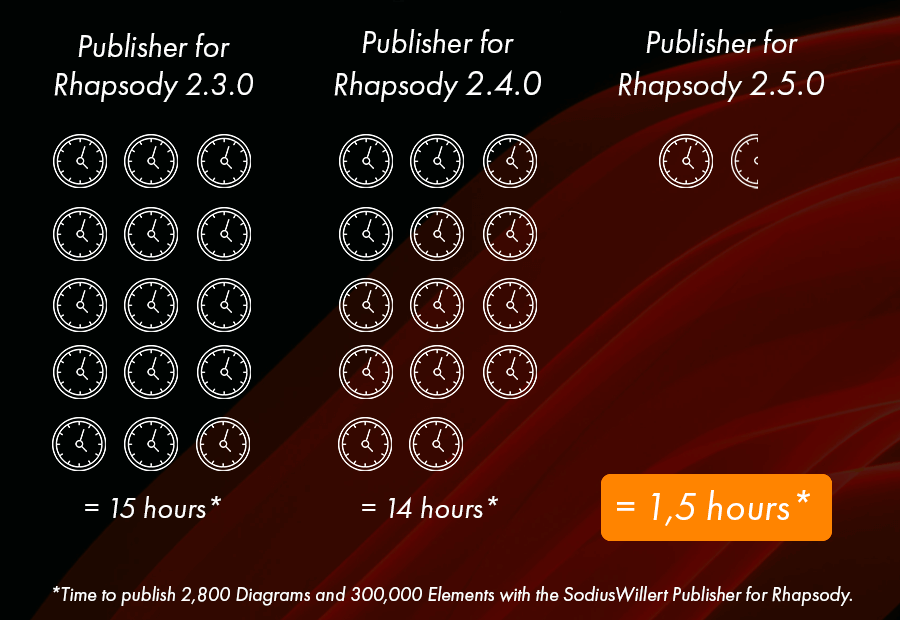 Mapping Enhancements for Local Tags
This version improves the mapping for local tags in Rhapsody.

​We know IBM Rhapsody users like local tags as a convenient way to add information on any object without formally defining a new stereotype. The Publisher for Rhapsody now manages these local tags for Diagrams, by improving the handling of Diagram stereotypes.c



Diagram Enhancements
Our users have spoken to request support for Custom Stereotypes for Diagrams and we have heard them.

A Diagram is a specific model element managed as a unique element in the UML modeling tools. Both IBM Rhapsody and MagicDraw allow capabilities which are not part of the standard to manage Custom Stereotypes on Diagrams and to specialize SysML Diagrams.

The Publisher for Rhapsody now includes the support of Diagram Stereotypes for both standard UML and SysML Diagram type definitions and any of their specializations.

Support of Free Shapes with IBM Rhapsody 9.0.1
Though free shapes are not technically included in the standard definitions of model elements, both tools provide some support for free shape usage on s.

IBM Rhapsody Version 9.0.1 enabled access to free shape information to the interface.

In turn, version 2.5.0 of the Publisher for Rhapsody now supports free shapes that are compatible with the tools when IBM Rhapsody 9.0.1 is the source. The compatible free shapes are horizontal and vertical lines (called separators in MagicDraw), rectangles, free text blocks, and images.

Upgrade to MagicDraw Publisher for Rhapsody 2.5.0
To learn more, watch this recorded webinar, or just get started with your 14-day free trial evaluation!

Already a MagicDraw Publisher for Rhapsody customer? Download the MagicDraw Publisher for Rhapsody 2.5.0 version here.